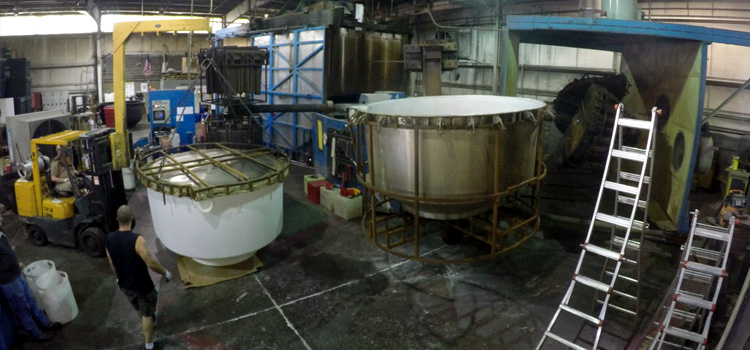 Plastics Rotational Molding
Rotational Molding is a plastics manufacturing process that takes a hollow mold that is filled with a "charge" or "shot weight" of resin materials, usually in the form of a powder material or a micro-pellet. Once the mold is loaded with the proper amount of materials, it is sent into an oven where it is slowly rotated around 2 perpendicular axes, causing the material to soften into a thick, viscous jelly and stick to the walls of the mold as it rotates. The mold continues to rotate thru the entire cooking, pre-cool and cooling cycles in effort to achieve uniform wall thickness throught the part. It is critical that the mold be balanced on the arm of the machine to achieve the uniform wall thickness. Once the mold is cooled to a certain temperature, the mold is opened up and the part is removed from the mold. The mold is then reloaded with a shot weight of material and then repeats the rotational molding process to continue production.
In comparison to many other plastics molding processes, Rotational Molding is relatively young, being applied to plastics in the 1950's. Since the processes development a number of improvements have been made to the machines, materials and process control. This has allowed for further new product developments in finding new applications for the rotomoulding process.
Watch in the video below to follow each step of the rotational molding process and learn how the multi-step process can possibly benefit your product or design. Each step of the rotational molding process is explained in detail below.
Custom Rotational Molding
Custom rotational molding is a plastics molding process, performed by rotational molding companies generally providing products and components to OEMs and businesses requiring services or products from the rotational molding industry. Many rotational molders only manufacture their own line or proprietary products, such as toys, trash cans or various other common rotationally molded parts. Some other rotomolders will offer custom molding services but will not have the staff in place to offer rotomolding design or mold building for the rotational molding process. Thus making the process more difficult, time consuming and ultimately more expensive. A number of rotational molding suppliers claim to be custom rotational molding specialists however do not offer any tooling assistance or repairs, thus requiring them to ship your molds or tooling to another vendor in effort to repair or maintain the tooling, adding additional costs and increasing down times.
High quality custom rotomoulding is a talent within an industry that is often described as "experience" mixed with "black art". In the video below, learn how each of the steps of the custom rotational molding process is integral to getting a custom product into rotomolding production.
Granger Plastics Company
Granger Plastics Company is a plastics rotomolding leader with industry forefront experience in the most diverse range of industry witnessed by any other rotational molding company. Granger's experiences over the last 25 years encompass a variety of customers who desire and expect high quality roto-molded solutions. Granger's quality driven focus allows for attention to detail, special needs and functions as they have provided rotationally molded solutions for a growing number of applications. Some of these rotomolded products have seen such applications such as Space travel, providing protection across the globe in the form of national security and even giving your family a place for relaxation and recreation- and virtually everything in between!
Granger Plastics Company's quality driven focus on providing high quality rotationally molded solutions that meet or exceeds customers expectations is the driving force for in business for a quarter of a century! !
Read more below to see a small sampling of the different industries that Granger Plastics provides industry leading rotationally molded solutions!
Learn more about Granger Plastics Company at either of the following: